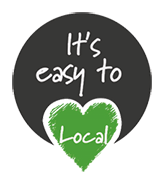 About Mr Huda's
Making an authentic curry paste can mean sourcing at least 15 different ingredients from fresh coriander to black cardamom. Why not let our Love Local producer Maf Huda do the hard work for you?
Maf says the 'lightbulb moment' was when a customer came into his Barton-on-Humber restaurant asking for curry pastes to bring alive a family barbecue for 50. Four years and lots of development work later, Mr Huda's curry pastes were launched.

"Making a curry is a balance. If you put too much cumin in, it will kill the flavour of the turmeric," explains Maf. "Too much turmeric will make it too yellow and will dull the taste."
"That customer made me realise we could provide people with our knowledge and expertise and also save them buying everything needed to make an authentic curry."
Each Mr Huda's paste is made of the fresh seasonings, like coriander, ginger and garlic, then the ground spices and a little rapeseed oil. They aren't heat treated at all so in the kitchen, customers will get the full flavour and the heady aromas of a curry made from scratch.
---
Go to the Mr Huda's website