Lymn Bank Farm
Lymn Bank Farm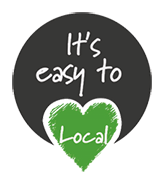 About Lymn Bank Farm
The Grinstead family first moved to Lymn Bank with a dream of becoming self-sufficient. After a short while, however, they turned their attention to learning how to make cheese and began experimenting with different flavours.
Now Lymn Bank Farm in Thorpe St Peter near Skegness, produces more than 20 different varieties of cheese - including Skegness and Sunset Blues, flavoured cheddars and waxed truckles - plus delicious handmade chutney.

Run by the Grinstead household, it's a real family affair. Dad Steve makes the cheese, and is helped by kids Gemma and Matthew, their spouses Matt and Amy, and the rest of the Lymn Bank team.
---
Products
Lymn Bank Farm 145g signature barrels of cheddar come in a wide variety of flavours from traditional apple smoked to hot n spicy. This is the cheese that started it all and it continues to be one of their most popular.
The Mouse House Cheeses are available in a rainbow of waxed coverings and mouth-watering flavours. Not only do they taste incredible, they look impressive too — a perfect addition to a gift hamper.
---
Go to the Lymn Bank Farm website